The hotel in Libreville was the same as the hotel in Franceville in appearance, structure, layout and feature.The hotel is composed by 2 buildings (3 floors) and 3 outbuildings (1 floor) with the total size of 9350 square meters.
In the beginning of cooperation process, PTH proposed a bilateral stream of collaboration that ensures every details the client concerned was transferred to the drawings.

PTH team of experienced designers and sales stuff added value through problem finding and problem solving in the planning stage, They design room layout including suites, chambers, and the layout of various functional areas like lobby, restaurant, bar, kitchen, service room, luggage room, office room, changing rooms, massage room, gym room, sauna, computer room, Laundry room, generator room, toilets. Besides the layout design and structural engineering, PTH also took charge of water supply&drainage system, electrical power system and HVAC system.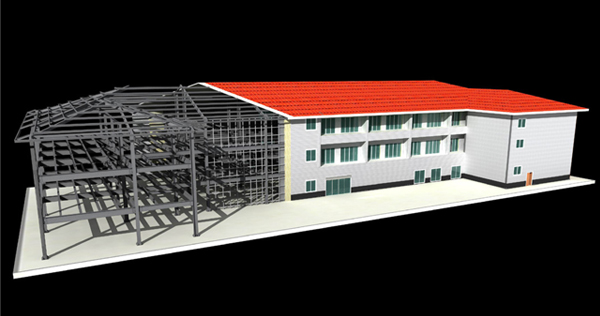 Manufacturing Process
Our material meet civil construction standards about insulation and fire-proof under severe cold
environment. All the wall panels are rock wool sandwich panel with steel sheet(Baosteel brand)
the thickness of interior wall reach to 60mm,exterior wall reach to 75mm, the aisle wall reach
to 100mm.Window in interior wall is aluminum single-glazed, in exterior wall is aluminum
double-glazed. Base frame is composed of box beam structure and casting parts. Floor panel
is waterproof laminate sheathing floor and PVC floor, with glass wool insulation. Roof frame is
composed of box beam structure,reinforced steel truss as secondary beam, insulation in roof is
PU which is 75mm of thickness resulting in the advantages of excellent thermal insulating effect.
In particular, washroom uses stainless steel wall panels to prevent rust or corrosion.